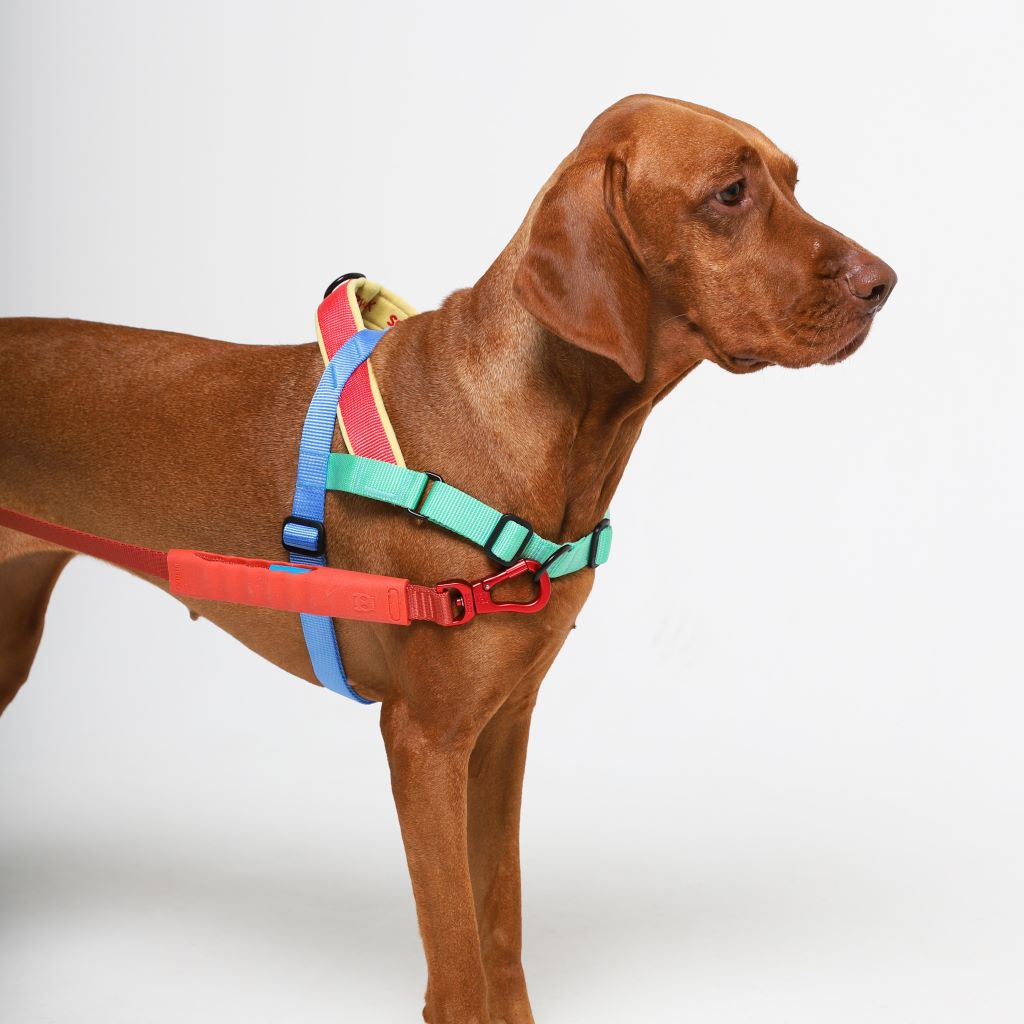 NEW! Zee.Dog No-Pull Dog Harness
For smoother walks with less pulling, the new no-pull Softer Walk dog harness by Zee.Dog features an anti-pull D-ring on the front and a control handle on the back. This is a harness designed to give both you and your dog a smoother and more comfortable walk.
Great for dogs that like to pull like a beast, the Softer Walk harness comes with two D-rings – one on the front and one on the back. When the dog lead is attached to the D-ring on the front of the harness this helps guide the dog towards you when they try to pull, gently correcting their behaviour.
The Zee.Dog Softer Walk harness is fully adjustable to achieve the perfect fit for your dog and made from soft fabric that is comfortable on the dogs fur. The padded handle on the back is positioned for easy access when extra control is needed. To make fitting the harness a breeze, the belly strap is a different colour to help make putting on much quicker.
Zee.Dog's soft walk no-pull harnesses comes in the latest trending colour palettes. Complete the look with a coordinating Zee.Dog collar and dog lead.
Zee.Dog Softer Walk Harness Features:
Adjustable no-pull harness designed for smoother walks with your dog.
There are 2 D-rings on the front and the back, where the dog leash can be attached.
Attaching a leash to the front D-ring helps to prevent the dog from pulling while walking as the dog will turn to face you.
The entire harness is made from super soft material that will keep your dog comfortable during walks.
The control handle at the top is padded and positioned for easy to access when extra control is needed.
The belly strap is in a different colour to make putting on the harness much quicker.
Equipped with a 4-point safety buckle.
Available in sizes small, medium, and large (to find the right harness fit for your dog we have included the chest and girth sizing measurements on each Softer Walk Harness product page).
Training your dog to heel on lead
A no-pull harness can be a great training tool to help you gain control and enjoy walks with your dog. Ideally, you'll also be using other techniques help to teach your dog that a loose leash is the best way forward so reinforcing any positive behaviours is key. For example, when your dog checks in by looking in your direction make sure to reward them immediately! Rewards can include praise and attention, a loosening of the leash or tasty treat.
Our favourite dog training treats to pop in your pocket or training pouch are Naturea Semi-Moist treats. Perfectly portioned for frequent rewarding, find Naturea all-natural dog treats here.
It's important to note that no-pull harnesses are not designed to wear on long adventure hikes with your dog. We also recommend removing your dogs no-pull harness for off-leash runs and zoomies at the park or beach so that they can achieve full motion.
Zee.Dog : Designed for your dog and you
A leading global lifestyle brand, Zee.Dog was founded with one major purpose: to Connect Dogs and People. Zee.Dog design and build products of expression to help make your life and your dog's that much cooler. Zee.Dog's range of premium and design orientated pet products are created with a fundamental understanding of what people want, combining function together with fashion. 
Designed in Rio de Janeiro and worn by Zee.Dog's around the globe.
Shop Dog Harnesses NZ online @ Banquet Pet